TheMoonDay.Com…Lionel Messi brought Argentina to win the 2022 World Cup. The status Greatest of All Time is officially held and please don't argue anymore!
Messi finished the 2022 World Cup brilliantly when he helped Team Tango beat France in the final, Sunday (18/12/2022) evening WIB.
Read More: Canelo Alvarez Threatens Lionel Messi After the Argentine 'stomps' Mexico Jersey!
Lionel Messi Become the Greatest Player all time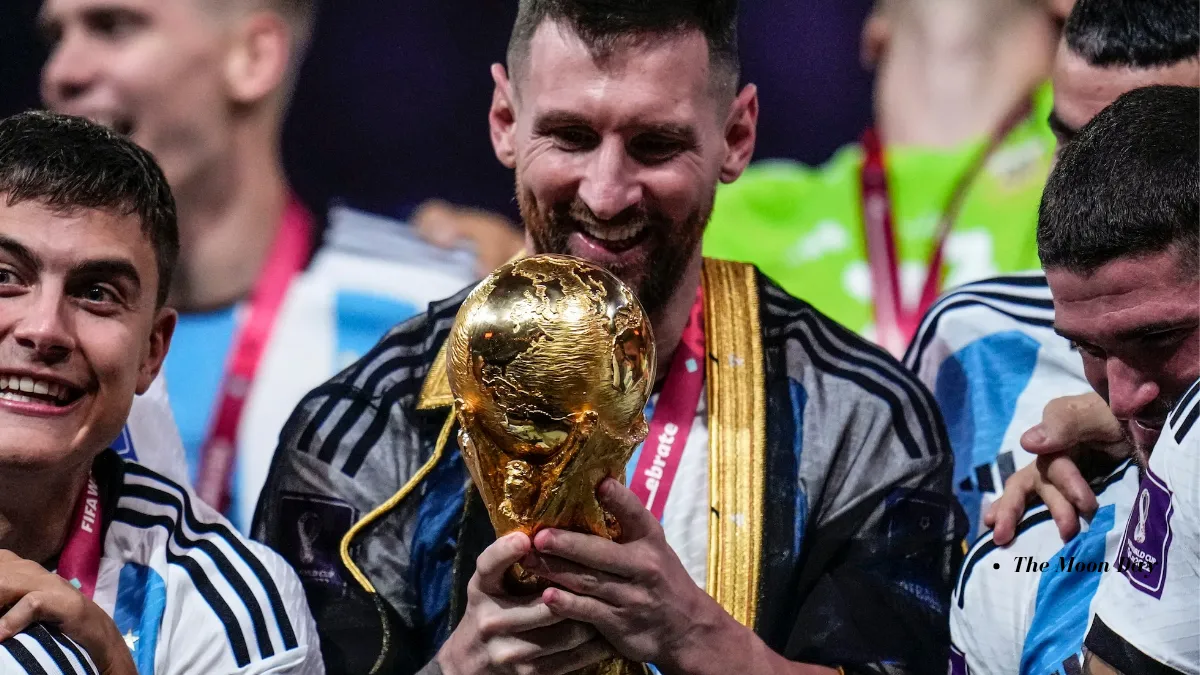 Argentina, who were 2-0 up in the first half, had to be forced to play extra time because France evened the score 2-2. Mutual exchange in extra time round 2×15 minutes to make the final score 3-3 and penalties must be done.
Argentina won 4-2 as well as grabbed its third world championship trophy since 1978 and 1986. This also ended the long wait of 36 years. Since winning with Diego Maradona, Argentina has often been a loser in major tournaments, including defeats in the 1990 and 2014 finals.
Read More: Neymar: Lionel Messi is now Enjoying his Life at Paris Saint-Germain
Especially for Messi who is always criticized for performing poorly in the national team, when he always played extraordinary for his club Barcelona at that time.
As great as Messi is, he always fails to bring Argentina to the highest level. What is Messi is familiar with defeat after defeat. Four major finals with Argentina, one at the World Cup and three at the Copa America always end in sorrow.
Read More: Lionel Messi Or Cristiano Ronaldo? 20 Top Footballers Choose Their Version of GOAT
The status of the Greatest Player of All Time Messi has also been questioned. At the same time, his rival Cristiano Ronaldo was actually able to win with Portugal at Euro 2016 and the UEFA Nations League.
However, Messi has been able to sweetly answer those doubts in the last 1.5 years. After bringing Argentina to the Copa America and Finalissima championships, Messi closed it with world champions.
Read More: Mbappe 'Hates' Messi and Neymar at PSG
So complete is the collection of trophies in Messi's career, because the World Cup completes it, being the culmination of his career on the gridiron.
After 1,003 matches, 793 goals, 350 assists, 7 Ballon d'Or, 4 Champions Leagues, 10 La Liga, 1 Copa America and 1 World Cup, Messi has the right to ordain himself as GOAT aka Greatest of All Time.
Thank You
Get selected news updates and breaking news every day from:TheMoonDay
Read More About Health Related Article
#1. Marco van Basten: MU is Ridiculous! | Ronaldo is Free from Sanctions READ
#2. Lionel Messi and Kylian Mbappe in 'conflict' as private plan to offload Neymar emerges READ
#3. Comparison of Messi and Ronaldo on the age of 35 years READ
#4. PSG Promise Lionel Messi Will Be An Alien Again Next Season
#5. Football Owes Lionel Messi's World Cup Trophy 2022 READ