TheMoonDay.com.."Harley Quinn" You must be familiar if superheroes are always juxtaposed with antagonist characters or bad people, but because these villains have a pretty good popularity, they also get more attention by making their own stories. Well, for example, Harley Quinn from DC, You Should Know.
Over the past two and a half decades, Harley Quinn's appeal has pushed her beyond the narrow confines of her conception.
Initially, he appeared as the Joker's minion in the comics, but he developed into one of the biggest players in DC Comics and Warner Bros., both in comics and on the big screen. So, if you want to know the background of his life, read on for Harley Quinn's history, These 10 Facts About Harley Quinn
Here a 10 Facts About Harley Quinn
1. Harley Quinn Debut
Harley Quinn first appeared in "Joker's Favor", the 1992 episode of Batman: The Animated Series. She becomes a female minion obsessed with the Joker whose love is one sided.
Avatar The Way of Water, Officially Revealed with More Epic Quality
How to Quickly and Naturally Lower Cholesterol
Paul Dini, author of Batman: The Animated Series, was inspired to create Harley Quinn when he watched his old college friend Arleen Sorkin on Days of Our Lives.
Sorkin dressed as a clown, and the scene inspired Dini to create a Joker boyfriend and also make Sorkin a Harley Quinn dubber. Her role as Harley Quinn spanned decades.
2. Harley is a Part of DC Comics
It took seven years after his TV debut for Harley Quinn to officially become part of the DC Comics Universe in 1999's Batman: Harley Quinn #1.
In fact, Quinn appeared in the 1994 comic, The Batman Adventures: Mad Love, telling the origins of Harley Quinn. as the Joker's former doctor at Arkham Asylum.
Harley's first appearance in DC Comics was at the 1999 show No Man's Land, where Gotham City was abandoned by the U.S. government after being devastated by a major earthquake.
Harley Quinn helps the Joker escape from Arkham Asylum, and is captured. When Quinn is released, he searches for his "puddin".
Harley remains loyal to the Joker, confronts Penguin and his crew, then goes head-to-head with Batman so that the Joker can escape.
The Joker tricks him into getting into the rocket. Harley survived, and Poison Ivy found and nursed him until he recovered.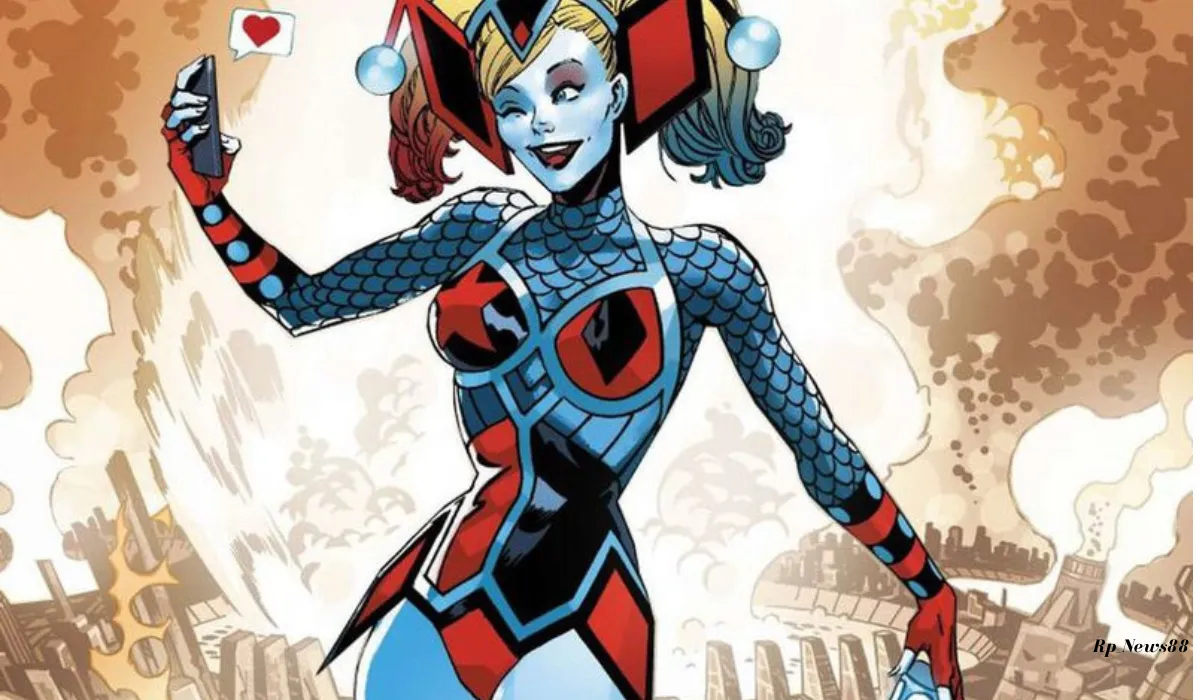 3. Harley Quinn Builds her Own Potential
The Harley Quinn comic premiered in late 2000. In the first issue, Harley Quinn was still under the influence of the Joker despite the abuse she experienced. After all, the Quinn-Joker relationship is very complicated. The series ended in 2004 Harley Quinn #38.
The author changed hands from Karl Kesel to A.J. Lieberman in 2003's Harley Quinn #26, and the character got darker and darker under Lieberman's tutelage.
What is Virtual Reality or VR?
Who Controls Antarctica? Mystery of the 7th Continent
4. Harley and the Girls Team
2009 saw the debut of Gotham City Sirens #1, where Harley Quinn was joined by fellow heroines Catwoman and Poison Ivy. The story begins after Ivy saves Catwoman from a super villain named Bonebreaker, and she invites Selina to her new home in the Riddler's apartment.
Harley Quinn shows up shortly after, informing her that she's moving out. After years of abuse and attempted murder, Harley is still obsessed with the Joker. Harley reveals that she has broken up with "Mr. J". In the end, the three agreed to complete the mission.
Gotham City Sirens only lasted 26 editions, closing in 2011. However, this story is an important step in Harley Quinn's evolution with the rest of the female protagonist team, which eventually led to her film in 2020's Birds of Prey.
5. Harley Quinn in Batman: Arkham Asylum
August 2009, both DC fans and gamers alike were treated to Batman: Arkham Asylum. In this game, players take on the role of Batman, after delivering the Joker to a mental hospital, Batman must face Gotham villains such as Poison Ivy, Killer Croc, and Scarecrow.
In addition to Arkham's cool timeline, this game also showcases many talents from Batman: The Animated Series, including Kevin Conroy as Batman, Mark Hamill as Joker, and Arleen Sorkin as Harley Quinn.
As for Harley, she appeared in a mental hospital. Unfortunately, Harley was defeated by Batman. In this game, Harley Quinn is also not wearing a clown suit, she is instead wearing a naughty nurse outfit, and her hair is in a ponytail.
Synapsid Lifestyle 264 Million Years Ago Similar to Hippopotamus
6. Harley Quinn is part of the Suicide Squad
Believe it or not, Harley Quinn doesn't actually appear in the first three volumes of Suicide Squad, you know.
The 2011 Suicide Squad volume that introduced Harley to the team was the result of the DC reboot, New 52, ​​where Harley Quinn looked more feminine with her black-red ponytail.
Adam Glass, best known as writer/producer on the TV series Supernatural, wrote most of the first 19 issues of the new volume, combining Harley Quinn with other Task Force X mainstays like Deadshot and Captain Boomerang, as well as new additions like King Shark and Diablo.
There are two subsequent volumes of the Suicide Squad since the New 52 series ended with its 30th edition, and the New Suicide Squad has Harley Quinn as its main highlight.
7. New 52, ​​Harley Quinn Version is More Fun
Three years after the debut of the New 52, ​​Harley has another solo book of its own. This time, Harley's story was co-written by the team of Amanda Conner and Jimmy Palmiotti.
This series is liked by many readers because it is considered much more fun than the previous crazy antihero version of Harley Quinn. The series also features one of the most emotional splits between Harley and the Joker.
When Harley breaks into Arkham Asylum to free his new girlfriend in 2016 Harley Quinn #25, Harley beats the Joker to death in his cell.
Buying Raphinha hasn't been paid off yet, Leeds United are ready to case Barcelona
Taylor Swift Ranked First Celebrity Biggest Carbon Emitter
8. Harley Quinn's Relationship with Poison Ivy
Actually, what does Harley Quinn have to do with Poison Ivy, huh? Harley Quinn writers Jimmy Palmiotti and Amanda Conner confirmed Harley and Ivy's relationship status in 2015.
In 2017 Harley Quinn #25 — Harley Quinn's second volume co-written by Conner and Palmiotti, fans were treated to a kiss scene between the two.
Unfortunately, Ivy's death in the 2018-19 miniseries Heroes in Crisis, pushes Harley over the edge and into battle with Batman.
At the end of the series, Ivy turns out to be faking her death. Harley and Ivy have finally teamed up for the 2019-20 Harley Quinn and Poison Ivy miniseries.
9. Harley Quinn is Successful on the Big Screen
In 2016, Harley Quinn finally made it onto the big screen in live action films, best known for her baseball bat and super short shorts in David Ayer's Suicide Squad. Margot Robbie is believed to play Harley Quinn.
Previously, she managed to impress critics and audiences alike with her performance as Naomi Lapaglia in Martin Scorsese's The Wolf of Wall Street. In addition, there is Will Smith as Deadshot, Viola Davis as Amanda Waller, and Jared Leto as the Joker.
However, the film received negative reviews. However, critics who disliked the film, such as Michael Phillips of the Chicago Tribune, said Margot Robbie was an exception. Phillips wrote that Margot Robbie managed to sell the film with her stunning performance as Harley Quinn.
Oscar-Winning Emma Stone Bio and Her Personal Life
How America became the No.1 Superpower?| Reality of USA
10. Harley Quinn in Birds of Prey
In February 2020, fans finally saw Margot Robbie return to play Harley in Birds of Prey (and Fantabulous Emancipation of One Harley Quinn).
The film is set about the breakup of Harley and the Joker, and like the animated series DC Universe, Harley Quinn is given the opportunity to tell her own story without the Clown Prince of Evil, the Joker.
Harley joins DC mainstays such as Jurnee Smollett-Bell as Black Canary, Mary Elizabeth Winstead as Huntress, Rosie Perez as former Gotham cop Renee Montoya, and Ella Jay Basco as Cassandra Cain.
Harley and his new allies face Ewan McGregor who plays Black Mask. The Birds of Prey has had many series over the years, and it even had its own television series in its early days. However, Harley's appearance on the team is one of the greatest successes of the Birds of Prey comics.
If you are a Harley Quinn lover, hopefully the 10 facts above can quench your thirst, about this Joker girl. Thank you.
Why the Author Changed the Original She-Hulk Story for a Serial Version
Ben Affleck and J.Lo Hold a 3 Day Wedding
New Black Panther Identity Leaks! Until Ben Affleck's Version of Batman Returns
This Parent Asks the Director Not to Kill Iron Man in Avengers: Endgame