TheMoonDay.Com…Late last year, actor Henry Cavill has announced his retirement as Superman in DC Universe. This has indirectly re-opened the cast of the Man of Steel for the next DCU cinema universe.
Moreover, not long ago DC Studios itself has promised that Superman will be one of their next top priorities. Interestingly, according to the latest rumors, there is currently an actor being eyed by DC Studios to become the new Superman actor.
Read More: 7 Most Expensive James Cameron Films!
DC Studios boss James Gunn has previously said that the story of Superman in the DCU will soon get a reboot with a script he wrote himself. Where the story will focus more on a young Superman who is just living his life in the city of Metropolis.
Based on Gunn's statement, it is quite clear that DC Studios wants an actor who is relatively younger than Cavill to take over the role of Superman next. And one of the actor candidates has just been leaked by the scooper account Deuxmoi through his Instagram story.
Superman Replacement Candidate for Henry Cavill Leaked?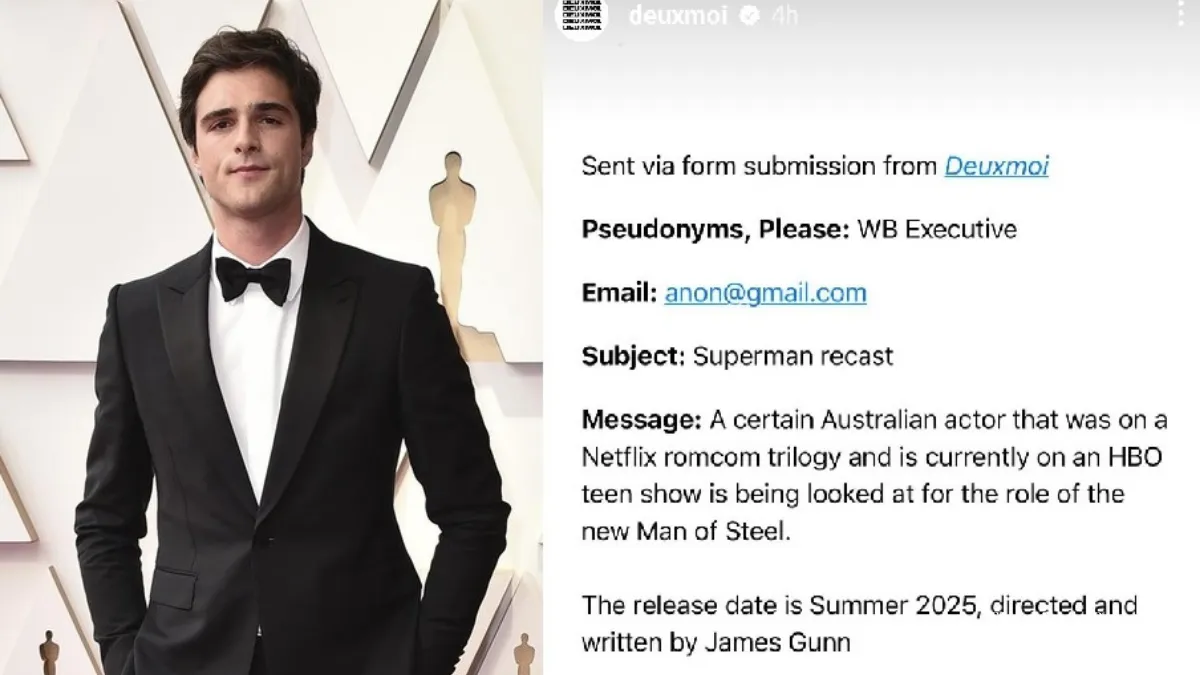 Read More: 10 Movies With The Worst Adult Scenes!
As you can see in the screenshot above, the account Deuxmoi which claims to be a pop culture curator, has just shared an interesting message with their followers on Instagram. The message said, "An Australian actor, who previously starred in the Netflix trilogy of romcoms and is currently in the midst of an HBO youth series, has been eyed for a new Man of Steel role."
And after investigation it turned out that the Australian actor in question was Jacob Elordi, who previously starred in the trilogy series The Kissing Booth on Netflix and the youth series Euphoria on HBO.
Read More: James Gunn Ensures Superman Becomes DCU's Top No 1 Priority!
For those who don't know, Deuxmoi itself is actually one of the Hollywood scoopers who is quite famous among DC fans. Previously they had provided a number of leaks which in the end proved to be accurate.
Some of them are rumors about actor Barry Keoghan as Joker in the film The Batman (2022) and most recently actress and singer Lady Gaga as Harley Quinn in the upcoming film Joker: Folie a Deux . Based on his track record, you could say the rumors about this new Superman candidate are also quite credible.
Read More: Black Panther 2 is Flooded With Critical Acclaim, is Considered a Successful Sequel
Because at this time DC Studios has not issued an official statement, we really can't just believe it. But regardless of the truth later, Jacob Elordi does meet the requirements to be the young Superman in the DCU, as he is currently only 25 years old.
If the rumors are true, according to what is written in the message Deuxmoi, this reboot of Superman will be written and directed directly by James Gunn, with a release schedule that will fall in 2025. We'll see if it's true, geeks.
Thank You
Get selected news updates and breaking news every day from: TheMoonDay.Com
#1. The Reason Kang the Conqueror is M0re Dangerous Than Thanos!
#2. Henry Cavill: "I'm Back as Superman" Man of Steel 2
#3. Why Didn't Justice League Sh0w Up in Black Adam?
#4. Top 10 Biggest Hulks in the Marvel Universe!